Apple Valley official believes Liberty could have followed him before crash (August 9, 2017)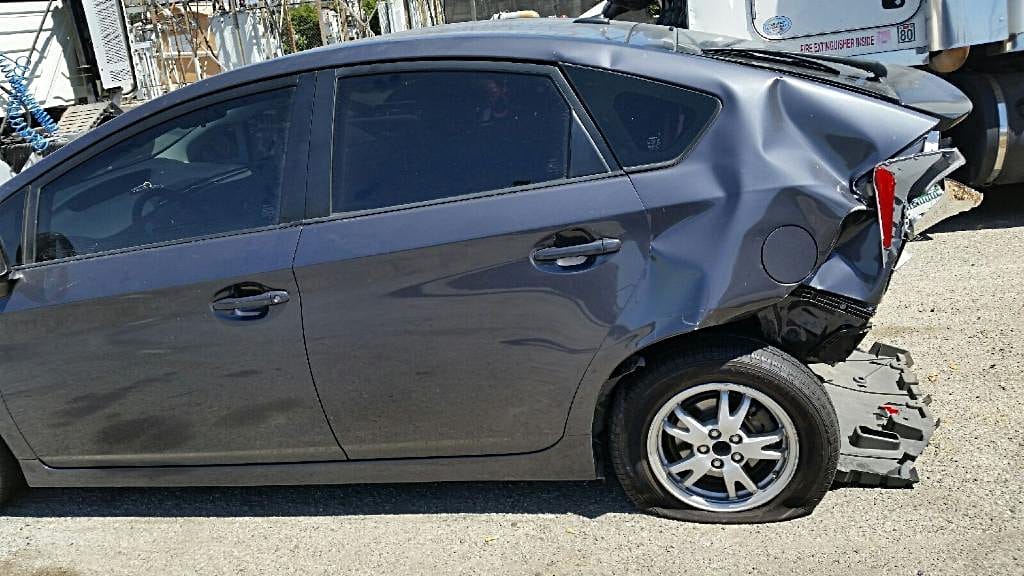 APPLE VALLEY — While fielding questions concerning a July 20 crash — currently under investigation — that involved his vehicle, Assistant Town Manager Marc Puckett asked for the name of the person who alleged being hit by his 2011 black Cadillac CTS.
Although Lola Espinoza later agreed to the use of her name, she initially spoke to the Daily Press under the condition of anonymity, so her name was not revealed during the July 27 phone call.
Puckett, as a result, became agitated.
"Here's what bothers me about that," he said. "What, was I being followed by some Ranchos person?"
When asked whether he believed someone from Liberty Utilities — the water provider that bought Apple Valley Rancho and is currently locked in eminent domain litigation with the town — would follow him, Puckett replied, "Yes I do." He then turned the conversation back to the crash the California Highway Patrol is currently investigating as a felony hit and run.
The "Ranchos" comments were not included in the initial Daily Press report on the crash because responses had not yet been requested from either the town or Liberty; however, spokespersons for both entities were informed of the comments prior to publication.
On Monday, in response to an inquiry that requested several responses — including one to Puckett's comments and another as to the possibility of disciplinary action — Mayor Scott Nassif and interim Town Manager Lori Lamson issued brief statements.
"We understand the CHP is investigating the matter," Nassif said. "This is a serious incident that the town will monitor closely."
"This unfortunate incident happened after work hours," Lamson said. "The town doesn't comment on the personal matters of our employees. Any personnel issues between the employee and the town must remain confidential."
Neither official addressed the "Ranchos" comments or the potential for disciplinary action.
Meanwhile, Greg Sorensen, president of Liberty's western region, said the comments had no merit.
"Mr. Puckett's statement is false and disrespectful to (our) employees who serve the community with pride and professionalism," Sorensen said. "We appreciate the work of the (CHP) to fully investigate this matter and trust they will determine what occurred and take the appropriate action."
On July 20, Puckett's Cadillac was involved in a two-car crash on southbound Interstate 15, about 600 feet after Foothill Boulevard, according to a CHP report. Espinoza said her 2011 gray Toyota Prius was hit from behind at approximately 11:30 p.m. Two photographs she provided show back-end damage to the Prius.
Espinoza was taken to Kaiser Permanente in Ontario following the crash. On Monday she said her car was totaled, and added that she has back pain that doesn't allow her to sit for extended periods.
The Cadillac had moderate front-end damage, according to the report that lists Puckett as the vehicle's owner but not the driver. Puckett previously told the Daily Press he "was in an accident," but denied that a second vehicle was involved.
On July 21, he retrieved personal belongings from his Cadillac, which was towed after the crash, and contacted CHP officials.
"They said if there's no one else involved I didn't have to report it, but I got a police report in the mail," Puckett said. "The only reason I left my car was because my cellphone was dead."
Puckett gave a statement to Rancho Cucamonga CHP officials on July 28 that he said mirrored what he told the Daily Press. He has since declined all additional requests for comment.
Regarding the investigation, Rancho Cucamonga CHP Officer Jesus Garcia previously said the driver has not been identified.
Rancho Cucamonga CHP officials declined a California Public Records Act request that sought a more detailed report on the crash, citing the ongoing investigation.
Source: Matthew Cabe, Daily Press
---