The innumerate Mr. Puckett (November 17, 2015)
Ah, so assistant town manager (and financial wizard) Marc Puckett weighs in again on how the Town of Apple Valley will be able to afford payments on the hundreds of millions of dollars it will need to borrow to buy Apple Valley Ranchos Water Company in a hostile takeover. Here is a recent Facebook post by the Town.
Marc Puckett, asst Town Manager, answers the question, How will the Town pay for an acquisition? AVR reports it pays $8.5 million annually in taxes and profit. The Town would not pay that $8.5 million, and could use the savings to pay off any debt taken on to buy AVR. The Town actually could afford an acquisition price of more than $100 million.

Source: TOAV, Facebook, November 17, 2015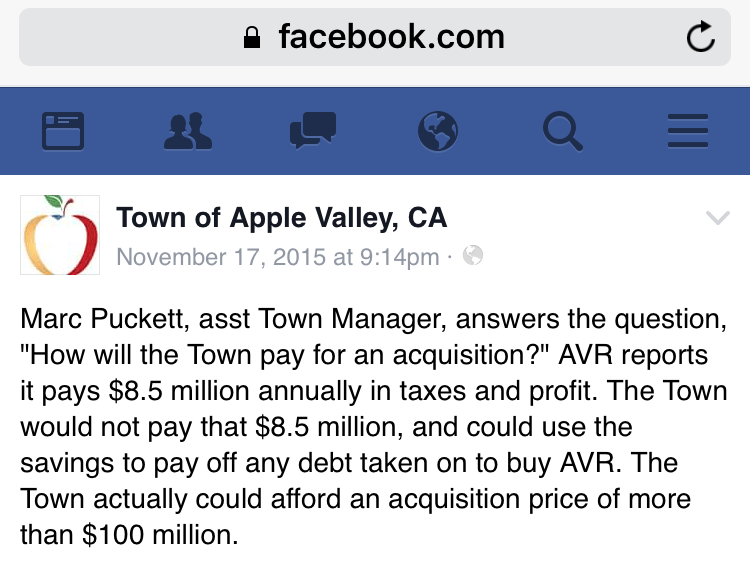 Let's review, shall we?
Despite his position with the Town, Mr. Puckett seems unable to count, add, or transfer numerals among documents without munging them. Furthermore, while everyone else in town is saying water rates will not go down after the Town seizes Ranchos, Mr. Puckett knows better.
Unfortunately, competent local persons with actual experience disagree.
One of those is our local assemblyman, Jay Obernolte, who discussed the Big Bear takeover of its water company. According to the Daily Press, Obernolte said:
We (in Big Bear Lake) ended up paying about two-and-a-half times what we thought we were going to pay for the system. […] As a result of that we had to issue bonds to fund that (price) and we have been repaying those bonds for the last 25 years. In 2019 — finally — the last of those bonds is going to roll off and we're going to be able to lower our rates to what they should have been all along.
Amplifying Obernolte remarks is former Big Bear city councilman Steve Foulkes. According to Foulkes:
[…] As I recall the attorneys for the City originally estimated the cost to acquire the system would in the neighborhood of $10-$12 million. I believe So. Cal. Water's original asking price was around $25 million. After roughly 3 years of litigation, the jury awarded So. Cal. Water around $28 million including the value of improvements made during the acquisition process. The DWP eventually issued around $30 million in bonds to finance the system acquisition. The original bonds were refinanced in 1992 to get a lower interest rate and will be paid off in 2022.

[…] the acquisition of the water system from So. Cal. Water […] came at a high price. The cost of bond payments has forced our water rates to be significantly higher than those of the Big Bear City Community Services District; our neighbors to the East. We also originally believed that by operating the system more efficiently we could make the desperately needed system improvements without raising rates. This was not the case. Within two years it became clear that a 'system rehabilitation charge' was necessary. This significantly raised our rates. […]
This scenario has played out time and again across the country, with town and city leaders promising one thing, and delivering quite another. Of course, by the time reality hits home, it's too late to do anything but suck it up. That's why the time to act is now; we must stop the Town's insane jihad against Ranchos before it wreaks any more damage on our community.
One last thing to remember: Mr. Puckett is not even an elected official, so there is absolutely no public accountability for anything he says or does, as long as he has the ear of the Town council.
— Greg Raven is Co-Chair of Apple Valley Citizens for Government Accountability, and is concerned about quality of life issues.