Gaffe riot (February 25, 2016)
At his January 26th presentation of a transparency report to the Apple Valley Town council, Assistant Town Manager Marc Puckett tried to apply lipstick to a pig by calling the council's attention to a portion of a recent Liberty Utilities shareholder meeting. When he came to the slide in his PowerPoint presentation showing Liberty Utilities president Greg Sorensen at a podium with a graph projected behind him, Puckett wanted to make certain everyone on the council understood the import of what he was showing them.
In a solemn voice, Puckett informed the council and meeting attendees, The third bullet point says, 'Heightened awareness of the value of water.' And I wanted to point that out because right beneath that it says, 'Park Water infrastructure investment requirements.' And it shows a arrow on an upward trend over the next four years. So this is what Liberty Utilities anticipates in returns from our residents.
Anyone actually reading this would notice immediately that the chart says investments, but Puckett interprets that as rate increases.
Fast forward to February 12th. Whoever is paid by the Town to convince ratepayers to welcome a multimillion dollar bond to buy a water utility we already have, picked up where Puckett left off, posting on Facebook, The cat is out of the bag. Liberty Utilities plans a 14% increase per year in the base rate for water in Apple Valley. Here is Greg Sorensen, president of Liberty Utilities California, telling shareholders about the company's plans to raise rates. Predictably, the peanut gallery exploded with outrage.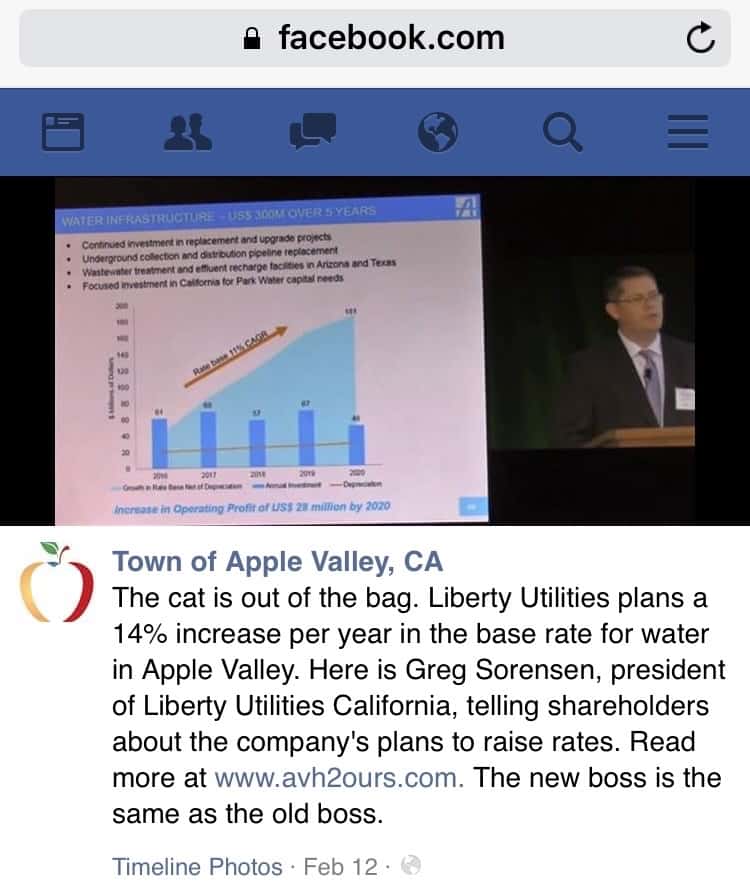 Two residents pointed out the obvious fact that the topic was infrastructure spending, not rate increases, as did a representative of Liberty Apple Valley. On February 23rd, Liberty Utilities posted, The Town of Apple Valley posted a photo of Liberty Utilities President Greg Sorensen making a presentation to shareholders, alleging that he was announcing a 14 percent rate increase in Apple Valley. That is not true. The presentation addressed California's historic drought, conservation, and the need to make infrastructure investments to strengthen conservation, water quality, and system reliability for generations to come. Rates were never discussed. Yet as of February 25th, this post is still on the Town's Facebook page, and is still gathering comments.
It's bad enough that Marc Puckett is legendary for his innumeracy, given his position with the Town, but when you factor in his foul attitude toward residents, and what seems to be an absence of knowledge about accounting, you have to wonder what elected official in his right mind would keep such a person on staff, especially considering Puckett's compensation in 2014 was $262,571.00 — more than eleven times the estimated per capita income for our community.
Whether Puckett is lying or just incompetent, Apple Valley deserves better.
— Greg Raven is Co-Chair of Apple Valley Citizens for Government Accountability, and is concerned about quality of life issues.
---
Files related to the 14 percent falsehood